A Christmas Chorale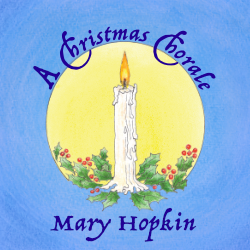 MHM013 - A Christmas Chorale (2020)
Track Listing
The First Christmas Day
So Blyssid Be The Tyme
Iesu Faban
Far, Far in a Manger
Tua Bethlem Dref
In The Bleak Midwinter
I Sing Of A Maiden
Suai'r Gwynt
Lullay My Liking
Rejoice (Madrigal) (Mary Hopkin)
The New Year
Heavenly Host (Morgan Visconti)


Bonus Tracks

Mary Had A Baby - 1972
Cherry Tree Carol - 1972
The Holly And The Ivy - Mary aged 12 with the Pontardawe Grammar School
God Rest Ye Merry Gentlemen
Snowed Under (Mary Hopkin) - 2008
This album is available for pre-order. We'll be getting the CDs in stock by mid-November and will send them out in time for Christmas.
Album Notes
Following on from 'Iesu Faban', released in 2015, Mary sings some of her favourite Welsh and English hymns. Joining her are her son and daughter, Morgan Visconti and Jessica Lee Morgan, as well as Christian Thomas.
This album includes tracks from the Christmas Songs EP released in 2008.