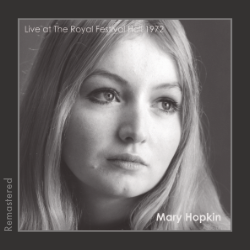 MHM0014 - Live at The Royal Festival Hall 1972 (Remastered) (2021)
The CDs are in cardboard gatefold sleeves, with new liner notes that include reminiscences from Mary, Tony, Brian, Ralph and Danny.
Track Listing
Once I Had a Sweetheart (Trad. Arr.)
Ocean Song (Liz Thorsen)
Streets of London (Ralph McTell)
Sparrow (Benny Gallagher/Graham Lyle)
Aderyn Pur (Trad. Arr.)
If I Fell (John Lennon/Paul McCartney)
Silver Dagger (Trad. Arr.)
Donna Donna (Sholom Secunda/Aaron Zeithlin)
Those Were the Days (Gene Raskin/Boris Fomin)
Earth Song (Liz Thorsen)
Morning Has Broken (Trad./Eleanor Farjeon)
Both Sides Now (Joni Mitchell)
International (Benny Gallagher/Graham Lyle)
Album Notes
Our first release in 2005, but remastered in 2021. A recording of Mary's performance in 1972 supporting Ralph McTell. Mary was joined on stage by Brian Willoughby, Danny Thompson, Tony Visconti and the Pop Arts String Quartet. There are highlights from her first two albums as well as some of her folk favourites.
In 2021 Mary's son, Morgan Visconti, applied restoration techniques to the album. The show had been recorded at the time by an unknown engineer at the Royal Festival Hall, and from a digital transfer of this tape we made our first CD in 2005. Since then, with experience, we have made some improvements and Morgan has improved the sound from the degraded tape as much as possible without taking the magical qualities from Mary's voice.
"Mary Hopkin gave one of her rare appearances, opening the concert, with husband Tony Visconti conducting the Pop Art String Quartet and playing guitar alternately. She also had Pentangle's Danny Thompson on double bass and Brian Willoughby on guitar. She is one of the few performers who can give a genuine and sincere show without any showbusiness trappings. She did a varied and beautiful set which included 'Ocean Song', 'Both Sides Now', 'Morning has Broken', and 'Those Were the Days'. Two of her more interesting selections were Gallagher and Lyle's 'Sparrow' and 'International'."
Rosalind Russell, Disc