Now and Then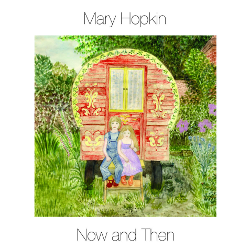 MHM005 - Now and Then (2008)
Also available from other download/streaming services.
Track Listing (for lyrics, click on the song title)
Take Me Back (Paul Muggleton/Bob Noble)
Crazy for my Sweetheart (Bert Jansch)
Life Song (Terry Cashman, Tommy West)
When He Shines (Dominic Bugatti, Freddie Palmer)
Tell Me Now (Mary Hopkin)
What a Friend you Are (Tom Paxton)
Wrap Me in your arms (Harlan Collins)
One Less Set of Footsteps (Jim Croce)
Shamarack (John Kongos)
If You Love Me (Monnet/Parsons/Piaf)
Bitter Harvest (Dave MacRae)
Happy Birthday (Patti and Mildred Hill, arranged by Mary Hopkin)
Album Notes
Now And Then comprises 14 gems recorded between 1970 and 1988 and is the third of the 'Archive' albums. The tracks that make up these three, including Valentine and Recollections were produced mostly by her then husband Tony Visconti.
Now And Then features three of Mary's own songs, as well as songs from other legendary names including Bert Jansch, Tom Paxton, Jim Croce and John Kongos. Mary's updated interpretation of 'Happy Birthday' (produced by Benny Gallagher) closes the album.
'If You Love Me', 'Tell me Now' and 'Wrap Me in Your Arms' are the same tracks as were released in 1976.
"There were about 30 hefty 2-inch tapes weighing heavily on my mind, and also on my bedroom ceiling," recalls Mary. "They had been gathering dust in my loft for many years and one morning I woke up to an ominous creaking sound - a huge crack had appeared in the ceiling. So, with some prodding from my daughter Jessica, we decided to release them before the ceiling fell in."
Lyrics
Lyrics must not be reproduced whole or in part, for any purpose whatsoever, without the written permission of Mary Hopkin Music.
Who Will Be?
Who will be?
You and I will be free
And our bodies deep in the ground
Oh nothing will ever be found

We know we've been here before
We'll be around again many times more
'Cos perfection is so hard to work
What direction, which way, which way should we turn?

Oh time will cover the traces
And new races will never be raced
In utter confusion it's all an illusion

Who will be?
You and I oh are free
And our bodies are deep in the ground
Oh nothing will ever be found
Oh nothing will ever be found


To the top Brown Eyes and Me
Brown eyes and me
We're bound to last forever
We've been through some bad times but they're over now

Brown eyes and me
We'll fight the world together
Our love is growing and we've come out even closer now

Lady you better know it
You never really had him for a moment
And no matter how hard you try
You'll never get in between my brown eyes and me

Oh you love your man
You'd give the world to please him
He treats you so bad and then he leaves you alone

You don't understand why it is you cannot hold him
You can't believe how far apart you've grown

You gotta make up your mind
To leave with him now or learn to live with this pain
And whatever you may decide
You better pray for the strength to start over again

And now he's home
Begging for your love again
But you wanna run don't know which way to turn

He cries in shame
And you're ready to forgive him
Forget the past well don't you live and you learn

Now you made up your mind
You'll never leave him though he'll drive you insane
And you're gonna search deep inside
To find the strength to start over again

Brown eyes and me
We're bound to last forever
We've had some bad times but they're over now

Brown eyes and me
We'll fight the world together
Our love is growing and we've come out even closer now

Lady you better know it
You never really had him for a moment
And no matter how hard you try
You'll never get in between my brown eyes and me
And no matter how hard you try
You'll never get in between my brown eyes and me


To the top