Mary's repertoire and her performance, Live at the Royal Festival Hall.
Last week Jessica wrote about releasing the Live at the Royal Festival Hall album. In this week's edition, she and Mary talk about the songs and the performance.
Live at the Royal Festival Hall 1972 features a great mix of songs that probably best sum up Mary's tastes. There are songs from Earth Song/Ocean Song such as the title tracks and 'International'. There's 'Streets of London', of which more later. Some of the songs are those with which Mary grew up - in some cases gleaned from early idols Bert Jansch and Joan Baez.
I was with Mary last week, and while waiting for the kettle to boil for one of our many cups of tea, I got to ask her some questions in person. I wanted to know how she built her early repertoire (mine incidentally came from some of the same sources, adding Earth Song/Ocean Song itself!).
Mary's Early Repertoire
"I was 13 when I had my first guitar. My sisters were 18 and 21 and both at university. They often brought home great music - The Shadows 'Apache', Peter Paul and Mary. My sister Wendy brought back a Joan Baez album and I ended up being enchanted by her first two. It helped me with my fingerpicking styles, along with Pete Seeger's book!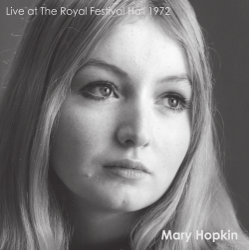 "It was a family friend, Ieuan Lewis, who introduced me to Judy Collins and also Bert Jansch's first album. Ieuan had a huge folk album collection, about 1000 albums! I remember learning 'Angie' from Bert's record." Festival Hall opens with 'Once I Had a Sweetheart, a traditional song performed by both Baez and Pentangle.
"The concert was on the back of Earth Song/Ocean Song, (which of course includes Ralph's well-known song). Ralph asked me, 'Will you sing 'Streets of London'?' I said, 'Absolutely no way, it's your song!' But I gave in and sang it in my set, although no one can sing it like Ralph. We had pretty much the same lineup as on Earth Song/Ocean Song, substituting Ralph and Dave Cousins with Brian Willoughby, who had already joined us on the New Zealand tour.
Other Songs
Of the other songs, Mary explains, "'Sparrow' was written especially for me by Benny Gallagher and Graham Lyle (and they also wrote 'International'). Tony and I used to sing 'If I Fell' at home, just for fun.
"'Morning has Broken' was a Cat Stevens song which I loved. I used to sing this at school, so it was a lifelong favourite."
And finally, "'Both Sides Now', because I was a huge Joni Mitchell fan." Judy Collins is also well-known for singing this song, and it appears on her Wildflowers album. Mary told me that she wore out one or two copies of that!
Jessica's Musical Upbringing
Mary instilled this love of music in me. My first performance at school, which prompted the purchase of my first guitar aged around 13, was of 'Aderyn Pur'. To me there's no better musical education than working through some of these classics, and when I hear this album it feels wonderful to know that my family and friends are together on one stage, with my grandparents in the audience.
I asked her how she felt during the gig, as she's no longer too fond of live performances. Her timid-sounding voice can be heard on the Introductions on the CD. "I was never as shy as I seemed, but I did enjoy the gig. And so did Morgan, who was due into the world 5 months later."
Once I Had a Sweetheart (Trad. Arr.)
Introductions
Ocean Song (Liz Thorsen)
Streets of London (Ralph McTell)
Sparrow (Benny Gallagher/Graham Lyle)
Aderyn Pur (Trad. Arr.)
If I Fell (John Lennon/Paul McCartney)
Silver Dagger (Trad. Arr.)
Donna Donna (Sholom Secunda/Aaron Zeithlin)
Those Were the Days (Gene Raskin)
Earth Song (Liz Thorsen)
Morning Has Broken (Trad./Eleanor Farjeon)
Both Sides Now (Joni Mitchell)
International (Benny Gallagher/Graham Lyle)
So those are Mary's thoughts on the songs and performance at Festival Hall. Do you have any questions you would like to ask, or any comments about the album? As usual, please ask us through Twitter, or on the Facebook page! If you like this content, please share with your friends using the buttons below.




Jessica Lee Morgan is Mary's daughter and runs Mary Hopkin Music.
Follow Us