The Earth Turns
'The Earth Turns' features as our song this week. Personally I see it as the flagship song of You Look Familiar, perhaps because it was one of the first that Mary and Morgan wrote together. At the time I was about 13 and compiling a scrapbook of environmental issues from The Early Times, a newspaper for young people that didn't feature boy bands (we had Smash Hits for that), and so the lyrics really struck me as being quite clever and pertinent indeed.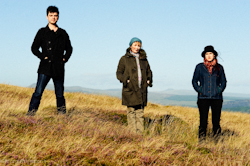 "Morganís dark and haunting arrangement put me in mind of the earth, and mankindís abuse of the planet," Mary recalls. "I wondered how the earth might respond and retaliate if it were personified, and capable of human emotion." She would blow us all to Kingdom Come, it seems.
Mary and Morgan's musical collaboration started around this time (other collaborations involved more domestic activities such as "What's for dinner?" "Please mow the lawn," and "Can you tear yourself away from the computer long enough to eat dinner?"). Morgan was creating some amazing backing tracks composed, recorded and almost exclusively performed by him.
"So far we've had great success in me writing a track first: chords, rhythm, some melody on the piano or maybe not." says Morgan "Mary jots down ideas for vocals on Protools and we go back and forth via email about which bits are working or not. Then when the stars align, i.e. when I came back to London for two years, we were able to finally record vocals together and really get things finished very quickly."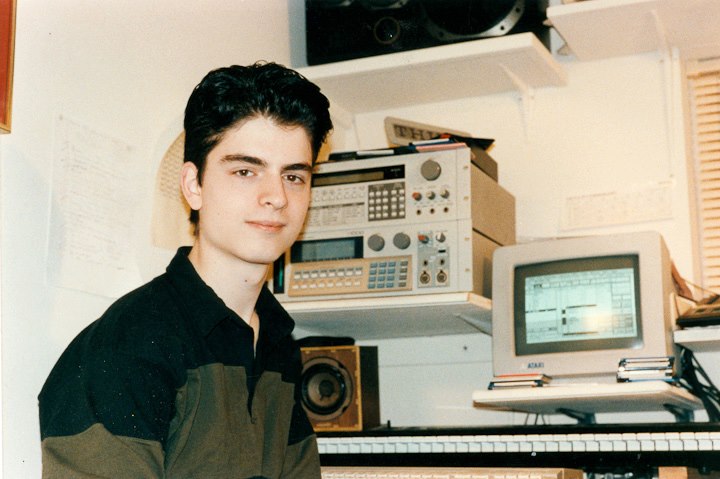 On 'The Earth Turns', Mary reports, "Morgan composed, arranged and played all the instrumentation except for the string quartet parts, which he also composed and arranged."
Morgan says "I also recorded Christian Howes on violin and octocello to create the quartet sound. I'm also playing some cello in addition to guitar and the programmed tracks."
As for the vocals, Mary says "Jessica sang some beautiful harmonies [with me] on the chorus, and I sang the lead vocal."
The track was first recorded at the studio of Barrie Barlow (of Jethro Tull) near Henley-on-Thames. Morgan and Mary spent the day there and I wandered up after school (it was down the road from our house), still in my bottle-green uniform, and sang backing vocals on the first two choruses. Being a school night, I had to miss out on the last chorus and go home.
Morgan adds "[The track was] originally recorded in March 1990 when I came back for a visit. I wrote the track on Mary's old portastudio which was still set up in my old room (on which I cut my teeth writing tracks after school) and Mary recorded some vocal ideas on her cassette boombox!
We then demo'd the track at Barry Barlow's studio on a 16 track and we lived with that version for quite a while before the rest of the album took shape.
However, the master mysteriously vanished and so when the time came to finish You Look Familiar as an album, the track was re-recorded in 2010 between New York (Morgan's studio) and Cardiff (our studio) and freshened up a little for contemporary ears.
"The multitrack was subsequently lost" says Morgan "and all we had was a stereo mix with a lot of noise. Sadly it didn't come up to the rest of You Look Familiar's quality although Mary's performance was a keeper.
So, the final track was recorded from scratch in 2010 but kept very close to the original. A testament to Mary's vocal skills is that the two versions don't sound that different at all, just better recorded."
Morgan shot scenes for the video at Ė the Tawe river at Pontardawe, the Gwrhyd mountain and Margam steelworks at Port Talbot (also the inspiration for Terry Gilliamís ĎBrazilí set, apparently, says Mary). Additional footage is from Regent's Park (Grass), St John's Wood (Trees), Soho Rooftops and a sunrise from Playa Del Carmen, Mexico.
The Welsh landscapes are a family treasure, the steelworks providing drama en route to family holidays in Wales, and the mountains and sea providing alternating days out while there. Industry and nature have always rubbed along in Wales and this video seems to portray that relationship from their perspective.
"The Gwrhyd above Pontardawe, Mumbles and Margam steelworks feature heavily in the video and to me represent untouched land on one hand and man's impact on that land on the other." explains Morgan.
The Earth Turns | Mary Hopkin and Morgan Visconti from Morgan Visconti on Vimeo.
Jessica Lee Morgan is Mary's daughter and runs Mary Hopkin Music.
Follow Us