Re-releasing Spirit
Spirit was originally recorded and released in 1989. The idea behind it was to record a collection of Mary's favourite classical songs, which she'd grown up singing ever since she was tiny. So the songs are from classical origins, but the delivery is simple and elegant - Mary singing in her own way, with minimal backing.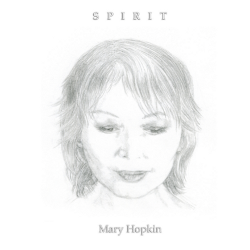 Three weeks were spent holed up in Picnic Studios in Kent, with biscuits and a boxed set of Police Squad. Making up the team were producer Benny Gallagher, Alan Park on keyboards (Alan Clarke had lent his skills on Ave Maria), Graham Lyle and Nicky Moore on male vocals, Mike Banks engineering. This is a remarkably short time in which to produce an album, but they did it beautifully.
The label that originally released it disappeared after a while, and the album was left to float about eBay and be snapped up by fans. It seemed a shame not to rescue this lost Spirit and put it back on the HopShop shelf (try saying that after a few mojitos).
We left it exactly as it was, that meant no remixing, no remastering, no nothing. This was quite a battle with Mary who likes to refresh things (and of course we did with the other Archive Albums). My argument was that it should be made available exactly as it was, so that the original vinyl/cassette/CD wouldn't become a museum piece.
Next week we'll look at Mary's artwork on the album.
As usual, we'd love to hear any questions you have on Spirit or anything else Mary related. Go ahead and Tweet us, or ask on Facebook.




Jessica Lee Morgan is Mary's daughter and runs Mary Hopkin Music.
Follow Us