The Importance of Being Welsh - Mary's Roots and 'Aderyn Pur'
Last week Jessica asked Mary about the songs and the performance of Festival Hall. This week, Mary tells Jessica about 'Aderyn Pur' and what being Welsh means to her.
As mentioned in the last blog, Aderyn Pur was one of the songs I learned from Mary, who first sang it for me when I was a child. Once, at my primary school, Mary came in on St David's Day and played it for the school. She explained that it was a Welsh love song about a little bird who carried messages of love, and all the children giggled, bless them! In return, the kindergarten children made her a rather novel card adorned with plasticine daffodils.
Aderyn Pur has been a favourite of Mary's ever since she learnt it at school. Naturally, being Welsh born and bred, she knows quite a few Welsh songs and has recorded several of them. Her first signing was to Cambrian Records with whom she recorded an EP.
In 1996, the Welsh-language label Sain released Y Caneuon Cynnar, incorporating the Cambrian EP with some other recordings. Some are traditional, and others were translated into Welsh by Mary's grammar school Welsh teacher, Eic Davies, and her Chemistry teacher, Gwyn Davies.
In 2009, Mary was asked for a contribution towards Blodeugerdd, an album of Welsh songs for the Smithsonian Institute's Folkways label. She recorded 'Aderyn Pur' especially for it, a simple vocal and guitar arrangement, which opens the album.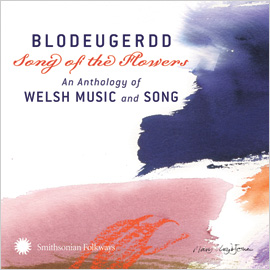 Welsh people are noted for their musical traditions. Mary explains, "Most children of my generation were encouraged from an early age, and were well used to standing on a kitchen chair to sing for assembled family and friends. They regularly competed in school and national eisteddfodau, performing music, poetry and drama, which instilled them with confidence on stage." Mary also frequently sang in Tabernacle chapel from an early age, and took it for granted that she would make a life for herself in singing. 
"Music and poetry were constant means of expression for the Welsh child and I can't remember a day that didn't include either in one form or another." At school, beginning with hymns at morning assembly, the children gave impromptu concerts at playtime, entertaining each other with favourite songs. At thirteen, Mary began to bring her guitar to school and sang and played to her friends at lunchtime or during misappropriated study sessions in the school hall. "Once, at a meeting of the debating society, we got bored, so I went home to get my guitar and gave an impromptu concert for two hours!"
"When I was around ten, after Sunday School, we weren't allowed to play at my friend Marian's house. So instead we and our other two best friends Marlene and Menna (we were known as the Four Ms) would often gather in the parlour and sing four-part harmonies to Welsh hymns and favourite songs, and perhaps learn new piano duets and pieces, enjoying the challenge and pure joy of making music together."
By their teens, they knew most of the Welsh hymns and ancient folk songs, of which 'Aderyn Pur' is one, by heart. "Many grammar school trips involving long bus rides were lightened by a horde of students belting out beer-swilling Welsh songs in four-part harmony, often with alternative lyrics, courtesy of the 6th form boys," remembers Mary. So how does Mary feel in all about her Welsh heritage? "I'm very proud of my Welsh roots, and have a great love and appreciation of its culture, stunning landscapes and interesting weather patterns."
For sporadic Welsh Weather Reports tune into Mary on Twitter.
Do you have any questions you would like to ask, or any comments about the album or Mary's Welsh roots? As usual, please ask us through Twitter, or on the Facebook page! If you like this content, please share with your friends using the buttons below.




Jessica Lee Morgan is Mary's daughter and runs Mary Hopkin Music.
Mary Hopkin is the boss.
Follow Us