Iesu Faban - A Christmas Chorale
Mary's released a new Christmas single in 2014. Here, Mary tells us how it all came about.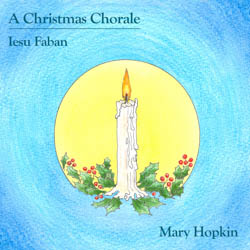 Last Christmas, just after Painting by Numbers was released, Jessica and I were discussing our next project. We decided to work on a collection of traditional Christmas carols for this year.
Since I love to sing with Jessica and Morgan, but generally working with one or the other, I thought it would be a great opportunity to get the three of us singing together.
I searched through all my dusty, childhood songbooks and found some gems we'd sung at school and chapel, many of them in Welsh. Once I'd gathered all my favourites and also discovered some very old, but new to me, carols, Jessica and I made a list, picked keys, and discussed how to begin.
It would be a long-distance project, with Jessica in London and Morgan in New York. I thought it should be a choral album in four-part harmony, mostly a capella, which we would then assess and decide if any of the songs needed some kind of orchestration.
In January, I began to record guide midi piano for the four vocal parts of each carol. I then recorded my soprano lines with added harmonies. I decided that replacing the guide piano parts with hummed vocals would provide a lovely accompaniment to the four lead vocals.
With Chris's invaluable guidance, I then sent the session to Jessica and Chris in London. Jessica added the alto parts, sometimes doubling the tenor, and then sent the session onto Morgan in NY. He added tenor and bass parts. Eventually, the session came back to me and I began to edit and decide if we needed any extra harmonies, etc.
On our first carol, 'Iesu Faban', Jessica and Morgan did a splendid job of following my Welsh lead. This must have been a huge challenge - to get their tongues around some of the Welsh pronunciation while concentrating on the often complicated harmonies.
Finally, the session went back to Chris, who did a perfect mix, allowing each voice to be heard while achieving a close, intimate choral performance.
Next week, Jessica and Morgan will tell us exactly how much of a challenge it was singing in Welsh.
Do you have any questions you would like to ask, or any comments about the albums or Mary's Welsh roots? As usual, please ask us through Twitter, or on the Facebook page! If you like this content, please share with your friends using the buttons below.




Mary Hopkin is the boss.
Follow Us