Those Were The Days
Download TWTD 2018 and remastered live version 1972 from our store
Download TWTD and Goodbye 1977 re-recordings from our store
Also available from other download/streaming services.
Mary Hopkin recorded 'Those Were The Days' four times:
1968 - produced by Paul McCartney and reaching number one around the world
1972 - Live at the Royal Festival Hall
1977 - with Tony Visconti, along with 'Goodbye'
in 2018 - with daughter Jessica Lee Morgan and son Morgan Visconti, as a 50th anniversary celebration
1968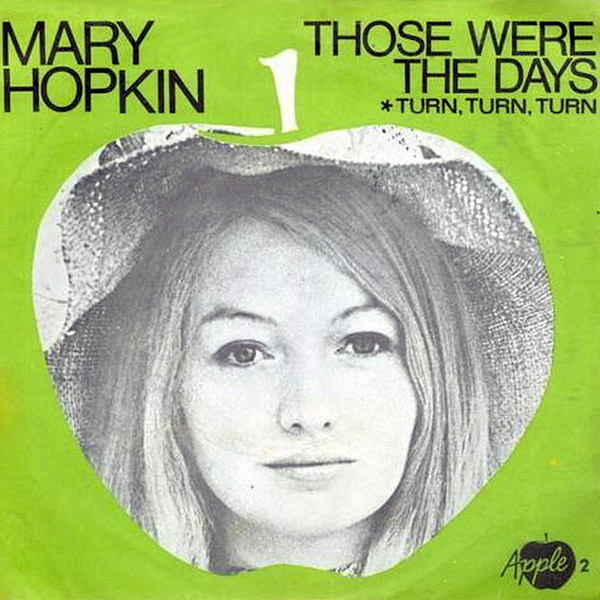 Mary remembers:
"The recording was quite a momentous occasion for me. It was in Abbey Road Studios. There was a full orchestra there, which was quite intimidating. The song was fresh and new to me, even though I'd learnt it, so when we started recording I was very timid about it.
"Paul would come in and say, 'Think about the lyrics and who this person is.' I wasn't happy with what I'd done, so he said, 'Go home and think about it and we'll try again on Monday.' Which I did. And in the meantime John Lennon rang me at home in Wales and said, 'To err is human, to forgive divine. Just try again. You know you'll do it.' That was so sweet because Paul must have told him that I was nervous and didn't quite get the take. That was such a lovely thing to do.
"I went in on Monday and nailed it, they said... But I was more comfortable with it. Generally the song was about a much older person than I was. I was a little schoolgirl basically. Maybe that's what worked with the song, the fact that I was almost a child, singing an older woman's song. That's what people liked about it. But I felt privileged to have been given that song by Paul."
This recording is still owned and controlled by Apple Records. It can be distiguished by a cymbalum opening to the song. It's available on legitimate download services.
The numbers:
TWTD was number 1 on the UK Singles Chart.
Number 2 on the US Billboard Hot 100 (held off no 1 by Hey Jude)
Number 1 on Canada RPM Singles Chart
Number 1 Germany
Number 1 Switzerland
Sold 1.5m copies in USA
Awarded Gold Disk by RIAA
Global sales 8m
1972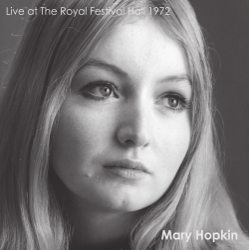 Mary Hopkin Music released Live at the Royal Festival Hall 1972 to launch our label. This album is available for download by clicking the picture. We are planning to remaster and re-release the album early in 2021.
We included a re-mastered version of TWTD on our 2018 EP.
Mary performed as support to Ralph McTell at The Royal Festival Hall. Somehow this got recorded and we released the album in 2005. We sent it for remastering, removing Mary's spoken intro, and have included it here. Some hiss exists, we can't do much about it but we are very glad to hear Mary sing live. Backing her up are Brian Willoughby on guitar, Danny Thompson on bass, The Pop Arts String Quartet and conductor Tony Visconti.
1977
Mary re-recorded 'Those Were The Days' and 'Goodbye'. after Mary left Apple, with her then-husband, Tony Visconti. Tony transcribed Richard Hewson's original Apple arrangements. He played the bouzouki to represent the original cymbalom. The children's choir were represented by Mary and Suzy Lynch, who were sped up to sound much younger.
The recordings were made for compilations, and were contracted to K-Tel, released on tapes, vinyl and even 8-track at the time. However, since the emergence of CDs and digital releases, the two tracks have appeared on numerous compilations, and all out of contract and unauthorised, meaning that Mary and others on the re-recordings do not get royalties.
To avoid long and costly legal action, Mary Hopkin Music released these two tracks digitally in 2014, with new artwork by Mary to identify them, and they are available on all download and streaming services (the ones that pay royalties!).
Of course Apple have re-released the original albums and recordings in recent years and their releases are, of course, legitimate and authorised. Another recording of 'Those Were the Days' appears on the Mary Hopkin Music release Live at the Royal Festival Hall 1972 and this is also legitimate.
2018
The new recording was prompted by the 50th anniversary of the original recording. Jessica, Mary's daughter, asked her if she would like to revisit the song. They agreed that it would be a stripped-down version, with sparse guitars. While Mary loves the original arrangement by Richard Hewson, she said "I wanted to perform it in a quieter, more reflective way."
The recording process is far removed from how it was done in 1968, and is truly a family operation. Jessica recorded piano and guitars (engineered by her partner Christian). Mary recorded her vocals at her home with Jess. Morgan, in New York, added fretless bass and mixed the track. For good measure, it was mastered in South Wales by Donal at Hafod, who has mastered MHM releases since 2010.
Mary also recorded:
Dolly Parton - TWTD - 2005
Further reading:
The story of Those Were The Days by Piers Ford
Those Were The Days on Discogs
Please click here to return to the home page.
LEGAL NOTICE
Mary Hopkin Music owns and administers original masters of 1977 re-recordings by Mary Hopkin of the songs 'Those Were The Days' and 'Goodbye' ("the Recordings").
In recent months it has come to the company's attention that certain companies including K-Tel have been involved in unauthorised exploitation of the Recordings as digital downloads and previously in digital formats and has purported to license certain third parties to engage in similar unauthorised exploitation.
This exploitation has been unlawful and in infringement of the company's rights and formal steps have been taken to prevent further unauthorised exploitation.
Would all fans of Mary Hopkin please ensure that they only buy official Mary Hopkin product, either released by or licensed from Mary Hopkin Music. If you have any queries please contact us at mhm@spacestudios.co.uk.
[This notice does not apply to exploitation of 'Those Were the Days' and 'Goodbye' released on Apple Records or Mary Hopkin Music.]