Mary Hopkin - Biography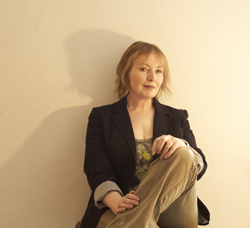 Mary's story has been told many times over. At some point we may write a sheer unadulterated biography for this website, but for now, here are the basics:
Mary Hopkin was born on May 3rd, 1950, in Ystradgynlais, near Swansea in South Wales.
Alongside playing solo gigs and with her band around the local clubs, Mary released an album of Welsh language songs on a label called Cambrian who were based in her home town of Pontardawe, before signing to the Beatles' Apple Records. The model Twiggy saw her winning the British ITV television talent show Opportunity Knocks and recommended her to Paul McCartney. She became one of the first artists to record on The Beatles' Apple record label.
Mary's debut single, 'Those Were the Days', produced by Paul McCartney, was released in the UK on August 30th, 1968. On 21 February 1969 her debut album, Postcard, also produced by McCartney, was released.
She represented the United Kingdom in the 1970 Eurovision Song Contest singing 'Knock Knock, Who's There?', coming second in the competition. If you mention Eurovision to Mary now, she pulls a disgusted face, not because she came second, but because this represents the pinnacle of the sugary sweet pop world that she hated.
Her second album, Earth Song, Ocean Song, was released by Apple on October 1st, 1971. The record was produced by Tony Visconti and included cover versions of songs written by Cat Stevens, Gallagher and Lyle, and Ralph McTell. This is by far Mary's favourite album and she regrets being unable to promote it properly, being tied up in a summer season. Her Apple releases have now been remastered and are available on CD and downloads.
After marrying Visconti in 1971, Hopkin withdrew from the pop music scene to have a family. Delaney (who changed his name to Morgan) was born in 1972 and Jessica in 1976. Although reportedly unhappy with show business, Hopkin did not stop recording. She travelled to Australia with Visconti in January 1972 and performed at a large outdoor rock festival in South Australia, as well as giving concerts in several major cities. With the help of Visconti, 1972 saw the release of the Christmas songs 'Mary Had a Baby'/'Cherry Tree Carol' on Regal Zonophone Records, which was re-released in 1973. These have been released on CD by Mary Hopkin Music (that's us) in 2008.
She was in a band called Sundance with Mike Hurst and Mike de Albuquerque of ELO, and then she made an album with the original band called Oasis (nothing to do with those naughty brothers) which also featured Julian Lloyd Webber and Peter Skellern. In 1989 she recorded Spirit with Benny Gallagher, now available on Mary Hopkin Music.
Lots of recording projects over the years kept Mary as busy as she wants to be, and none of them were ever intended as a "comeback", although this is tends to be what happens.
Her daughter, Jessica Morgan, released Live at the Royal Festival Hall 1972 in 2005 under the label Mary Hopkin Music. When Jessica opened Space Studios later that year with her partner Christian Thomas, Mary Hopkin Music was incorporated into the studio. The discovery of yet more unreleased tracks recorded with Tony Visconti has led to our release of the "Archive" albums on Mary Hopkin Music. Additionally, Mary has since found a huge stash of other songs written by herself. We've just released Another Road in 2020.
Mary lives a nomadic lifestyle, flitting about between countries. Rumour has it that she lives in a chateau in France where she can only be reached by carrier pigeon. While not strictly true, she still values her privacy.